optical angle encoder shaft angle encoder angle encoders angle encoders Heidenhain
Sealed Angle Encoders
Angle Encoders with Integral Bearing, Hollow Shaft and Integral Stator Coupling: RON and RCN

The stator coupling is configured so that during angular acceleration it absorbs only the torque resulting from bearing friction. The HEIDENHAIN angle encoders RON and RCN are therefore characterized by excellent dynamic performance. Since the stator coupling is integrated, the specified system accuracy includes the error of the shaft coupling.

Further advantages:

| | |
| --- | --- |
| | Short overall length and small space requirement |
| | Hollow shafts with diameters up to 60 mm for supply lines, etc. |
| | Simple mounting |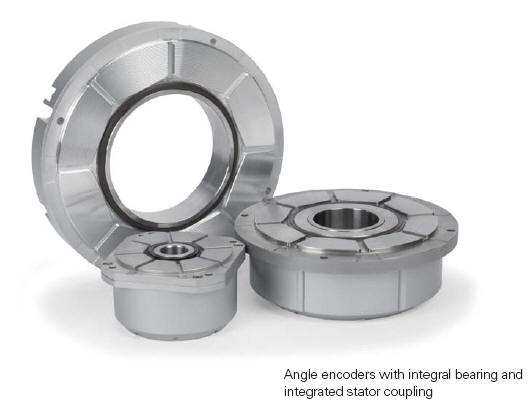 Angle Encoders with Integral Bearing and Solid Shaft: ROD

Angle encoders with stub shafts are particularly well suited for applications with high rotational speeds or where large mounting tolerances are required. Precision couplings permit axial tolerances up to ± 1 mm for shaft coupling.

Selection aid: Sealed Angle Encoders
Output signals
Coupling, shaft
Accuracy
Model
Incremental
With integrated stator coupling and hollow shaft
To ± 2.5"
RON
To ± 0.2"
RON
With separate coupling and solid shaft
To ± 2.5"
ROD
To ± 1"
ROD
Absolute
With integrated stator coupling and hollow shaft
To ± 2"
RCN
Angle encoder with an integrated stator coupling

System accuracy

Mechanically perm. speed

Incremental signals

RON

± 5

3000 min-1
1 Vss

RPN

± 2

1000 min-1
1 Vss

RCN

± 1 "

1000 min-1
1 Vss

Because of the design and mounting of the stator coupling, it must only absorb that torque caused by friction in the bearing during angular acceleration of the shaft.

Advantages:

Compact size for limited installation space
Hollow shaft diameters up to 100 mm for leading power cables, etc.
C axes on lathes
Simple mounting

Angle encoders with integral bearing, for separate shaft coupling

System accuracy

Mechanically perm. speed

Incremental signals

RON 200

± 2,5 " to ± 5 "

3000 min-1
1 Vss

RON 700

± 2 "

1000 min-1
1 Vss

RON 800/ RPN 800

± 1 "

1000 min-1
1 Vss

RON 900

± 0,4 "

100 min-1
11 µAss




Angle encoders for separate shaft coupling

System accuracy

Mechanically perm. speed

Incremental signals

RON 200

± 2,5 " to ± 5 "

3000 min-1
1 Vss

RON 700

± 2 "

1000 min-1
1 Vss

RON 800/ RPN 800

± 1 "

1000 min-1
1 Vss

RON 900

± 0,4 "

100 min-1
11 µAss

Angle encoders for separate shaft coupling

System accuracy

Mechanically perm. speed

Incremental signals

ROD 200

± 5 "

1000 min-1
1 Vss

ROD 700

± 2 "

1000 min-1
1 Vss

ROD 800

± 1 "

1000 min-1
1 Vss

ROD angle encoders with solid shaft are particularly suited to applications where higher shaft speeds and larger mounting tolerances are required. The shaft couplings allow axial tolerances of ± 1 mm.

Angle encoders without integral bearing

ERA

ERO

Angle encoders without integral bearing (modular angle encoders) are intended for integration in machine elements or apparatuses. They are suited for the following requirements:

Large hollow shaft diameter (up to 10 m with a scale tape)
High shaft speeds up to 40000 rpm
No additional starting torque from shaft seals
Segment solutions