THE ROBBINS LINE


FORMERLY BY EX-CELL-O/ROBBINS

This new premium line of sine plates from Suburban Tool is a result of the purchase in 1989 of the Ex-CELL-O/Robbins sine plate line from Micro Precision, a subsidiary of Textron, Inc. The high quality features have been maintained by following the same blueprints and procedures. Changes were made only to improve the product.

In this section of the catalog you will find sine plates for precision grinding, light and heavy machining, and inspection applications. There are many models available for single and compound angular set-ups in a wide range of sizes from 4" x 4" to 24" x 24". Within this wide range are the three different types shown below: the MAGNA-SINE, a magnetic type employing fine pole ceramic magnets; MASTER-SINE, a non-magnetic plate for inspection and light machining; and the HEAVY-DUTY sine plates for tough machining.



SPECIFICATIONS SUBJECT TO CHANGE WITHOUT NOTICE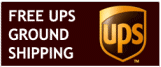 Automation and Metrology 130 Liberty Street Painesville, Ohio 44077
Phone: (440) 354 6436 Fax: (440) 639 9983
E-mail: sales@auto-met.com