STEEL CHROME AND CARBIDE RING GAGES FROM .0701 TO 12.260"
RED LINE SERVICE (Add 25% to catalog prices)
6 Working days on most gages .070 through 2.510
Working Days do not include Saturdays, Sundays or Holidays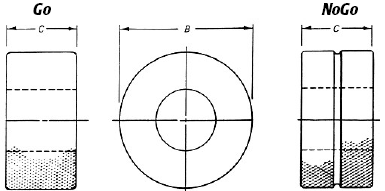 These ring gages are custom made to your diameter specifications in both Inch and Metric. Choose tolerance (Class XX, X, Y, Z, ZZ) and material (Steel, Chrome plated, Carbide). With a Go and NoGo Ring, an inspector can quickly pass/fail parts without taking time consuming readings from an indicator. These ring gages are also perfect for use as masters for bore gages and internal micrometers. A certificate of Accuracy accompanies every ring gage assuring size. Available with Certificate of Calibration or Conformance traceable to NIST.