ACCURACY IS EVERYTHING.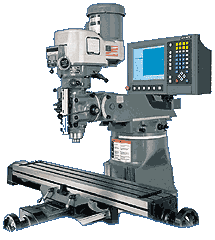 For more than 40 years, machinists have trusted ACU-RITE to provide affordable, practical solutions to the challenges they face every day. That tradition continues with MILLPWR by ACU-RITE, a versatile 2- or 3-axes control/3-axes readout system that satisfies the need for both manual and automated operations for milling machines.
MILLPWR now has the ability to run G-code files from CAD/CAM programs for Full 3-D Contouring. MILLPWR can also translate DXF files directly into program code. Machinists now have the ability to easily transform a manual mill into a powerful CNC control system while never losing manual milling capabilities.
Whether you're working in a small job shop or a large manufacturing facility, MILLPWR is equipped with the features you need to become more competitive.



Will enable you to:
Set up jobs faster
Perform milling operations more easily
Create, and then save, part programs
Prevent math errors
Minimize scrap
Improve each part's accuracy and repeatability
Backed by a comprehensive 1 year warranty, MILLPWR is designed and manufactured in the United States at ACU-RITE's ISO 9001 registered facility, with worldwide support provided by a factory-trained and certified distribution network.
Let MILLPWR be your answer to increasing your efficiency, productivity and profitability.