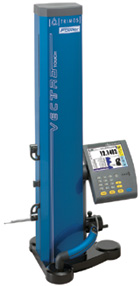 New innovations and research have led to the development of the Vectra and Mestra Series Gages.These new height instruments represent the latest evolution in vertical gaging.
With features and capabilities better than many CMM machines, the new instrument features Surface, ID/OD, Depth, Slot, Groove, 1D and 2D measurement, PCD, Straight Line Distance, XY Coordinates.

Easy to use Trimos Embedded operating system with touch screen display and Windows compatibilty.



Click for details