* PMC Squaremaster
---

See How The SquareMaster® Can Increase Your Inspection Accuracy While Lowering Inspection Cost.
The squareness, straightness or parallelism of what you manufacture is too important to be left up to guesswork. Conventional hand gages can't approach the repeatable accuracy and long life of the SquareMaster by PMC Lonestar.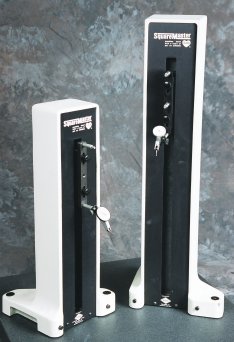 ± 0.000050 Accuracy
The SquareMaster can measure with an accuracy of ± 0.000050 of an inch (50 millionths) over any 12" of specified range. No hand gage even comes close.
It's our solid laboratory-grade granite master column that makes it possible. In fact, the SquareMaster is the only vertical squareness gage that uses a granite column. Besides unmatched accuracy, the SquareMaster's column requires only an occasional wipe-down with alcohol to keep it accurate for many years to come. That's why the SquareMaster is truly an investment sure to pay off in increased accuracy far into the future.
The SquareMaster can be used for virtually any measurement of straightness, squareness or parallelism on interior or exterior surfaces. Its precision direct dial readout substitutes reliable and repeatable results for the subjective calculations you probably now make.
Portable
The SquareMaster's lightweight design makes it completely portable for use on machine tables, surface plates, at production set-ups and many other locations. Use it for in-process work or in the Inspection Department for 100% inspection. Wherever you use it, SquareMaster will deliver unarguable results time after time.
The SquareMaster is available in two models with vertical travel up to 18"
Master Column
Made of laboratory-grade precision granite, straight and parallel within ± 0.000025 (25 millionths) of an inch per foot, treated with special lifetime dry lubricants.
Accuracy
To ± 0.000050" (50 millionths) over any specified 12" travel.
Measuring Range
VSQ-12 - 0" to 12" standard, 18" with extension bracket
VSQ-18 - 0" to 18" standard, 24" with extension bracket
Dimensions and Weight
VSQ-12 - 22" high, 8" square base, 28 lbs.
VSQ-18 - 30" high, 9" square base, 40 lbs.
Indicator Posts
Two steps -
7/32" diameter (.219" + .000")
(- .003")
3/8" diameter (.375" + .000")
(- .003")
Extension Bracket
Your SquareMaster is shipped with an extension bracket as standard. It allows a second dial indicator (optional) to be used for increasing the continuous measurement range. The bracket can be rotated to check adjacent surfaces and around corners.
SquareMaster Accessories
Frequent calibration of the SquareMaster will keep it operating accurately for many years. By using the Master Square of laboratory-grade, lapped black granite, your measurements can be relied on without question.
---

SquareMaster
Model
Master Square
Dimensions

---

VSQ-12
3" x 5" x 12"
VSQ-18
3" x 6" x 18"

---

* PMC Contoureader
---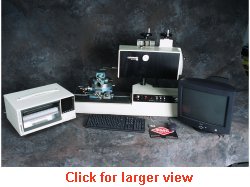 The ContouReader by PMC Lonestar is part of a new generation of precision instruments to inspect both internal and external dimensions of literally thousands of parts to guarantee the quality of your products. We offer two versions of the ContouReader; a standard and new Windows-based computerized version. The ContouReader inspects everything from dimples on golf balls to turbine blades with the same repeatable accuracy to reveal any defects, deviation from specifications, or rough edges that can adversely affect product quality.
The operation of the ContouReader is simple. A part is placed in a fixture, and the tracing stylus moves gently over the surface of the part, transferring the stylus arm movements into electrical voltages which are amplified and transmitted to the chart recorder or computer display. The recorder moves a pen to draw an exact duplicate of the part contour on chart paper up to 200 times its original size, and with accuracy of ±0.0002 inches on the standardized version. The computerized version will display an exact duplication of the part contour to an infinite magnification. A manual or electronic master overlay is used over the ContouReader tracing to compare for accuracy.
What will you be able to see? Crest forms, root radii, flank angles, pitch diameters, and others, all in seconds on a permanent record strip chart or electronically. The electronic version can be shared via DXF or DWG format.
ContouReader




Tracing Speed
Stylus Point Radius
Stylus Hardness
Stylus Pressure
Accuracy
Minimum Hole Size for I.D. Tracing
Vertical Positioning Range of Probe(s)
Stylus Horizontal Travel
Maximum Vertical Stylus Travel
Maximum Head Tilt
Minimum Included Angle Using Standard Styli


Weight

Chart Recorder


Magnifications on Horizontal & Vertical Axis
Weight

Single Stylus
Model 150
4" Travel
.005 ips
.001"
65Rc
4 grams
±0.0002"
0.15" (with special stylus)
6"
4"
0.500
+15° -10°
26°
67° Ascending
87° Descending
155 lbs.

Single Stylus
Model 150
10x/20x/50x
100x/200x
38lbs.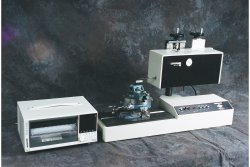 for current pricing and availability.

* API Oil Country Gages
---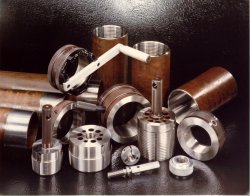 PMC Lonestar is licensed by API to Spec Q1, Spec 5B, 7 & 11B and manufactures a complete line of API (American Petroleum Institute) plug and ring gages for
Casing - sizes 4 ½" - 20", both working & masters
Line Pipe - sizes 1/8" - 20D, both working & masters
Tubing - EUT 2 3/8" - 4 ½", both working & masters, NUT 2 3/8" - 4 ½", both working & masters
Buttress Casing - sizes 4 ½" - 20", both working & masters
Improved Buttress Tubing - sizes 2" - 5 ½", both working & masters
Sucker Rod - masters P1-P8 & B1-B6, working gages P2-P8 & B2-B6
Polished Sucker Rod
Rotary Shouldered - NC10-NC77, both working & masters
Regular Rotary - sizes 2 3/8" - 8 5/8", both working & masters
Full Hole - sizes 3 ½" - 6 5/8", both working & masters
Internal Flush - sizes 2 3/8" - 5 ½", both working & masters
Extreme Line Gages - contact for current pricing
Negative Flank Angle – we have recently introduced fixed and ground negative flank angle gages to our product line.
Field proven for over half a century, our master and working gages meet and exceed specifications established by the American Petroleum Institute and are used as the benchmark for calibration by the National Institute of Standards and Technology (NIST). PMC Lonestar designs and manufactures special oil country gages to your specifications.

* Special Gages

PMC craftsmen can custom build a gage to meet your exacting inspection requirements. From unique thread shapes and leads to special configurations and sizes, our craftsmen can precisely meet you special gaging requirements.

* Certification & Calibration Services

PMC offers certification and calibration of new gages and customer property gages. Gages are certified accurate and traceable to the national institute of standards and technology (NIST).