For over 40 years Summit® has been serving the metal working industry by providing quality machine tools and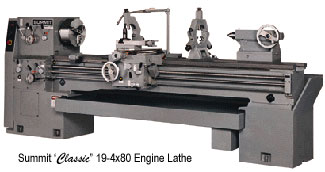 performance solutions to customers worldwide. Summit's products offer outstanding features with proven technology and workmanship. Our wide selection of models include tool room lathes, engine lathes, CNC lathes, vertical mills, radial drills, upright drills, horizontal and vertical boring mills, hydraulic shears, and band saws for the most common applications and are in stock and ready for delivery.
Consistently, Summit machine tools are "the most machine tool for the money" on the market today. Ruggedly built with specifications and features for the most demanding work. Summit machine tools afford you quality output with a competitive edge that impacts your bottom line. View our complete machine tool lineup!

Summit Lathes are American Designed and European Manufactured to exact ISO Standards and specifications.

Summit lathes feature simplicity and ruggedness not found in other lathes. Features like a single handle "Joy Stick" control with built in rapid traverse. This feature allows for quick and easy feed engagement with feed reversing at the carriage.

A Standard, not optional, Large Spindle Bore gives you the ability to turn cylindrical parts of a relative large diameter. Our 20 and 24" Series lathes have a 4 1/8" hole thru the spindle. This capacity is usually only found on larger thus more expensive lathes. The larger spindle size necessitates a larger diameter bearing giving the machine greater radial and thrust capacities.

Summit Lathes, designed with wide bed way to swing ratios, allow you to produce excellent finishes at maximum material removal rates not always possible with other lathes.

Summit has been providing preeminent customer service for almost 50 years.

Your Summit Sales and Support Team is focused on after the sale service and support.

Summit stocks over a million dollar parts inventory to ensure your Summit lathe provides you maximum up-time.